International Folklore Festival
23 - 28 September 2016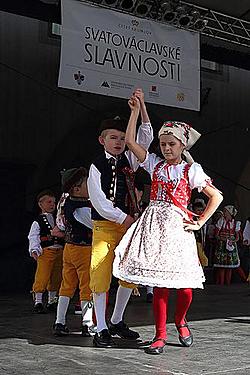 Visitors to Český Krumlov attending the 15th St. Wenceslas Celebrations from 23 to 25 and on 28 September 2016 can look forward to a fair, several concerts, exhibitions, dancing demonstrations, tours of the historical centre underground and much more. On Friday and Saturday, the 16th International Folklore Festival will also add dancing to the historical town centre.
Fair stalls will fill up Svornosti Square from Friday till Sunday. Friday evening will be in the spirit of rock music with Vladimír Mišík & Etc... and the acoustic trio Michal Prokop with Luboš Andršt and Jan Hrubý. Folklore music fans will enjoy an evening at the Eggenberg brewery restaurant where bands of this year´s Festival participants will perform for both dancers and listeners.
Český Krumlov monasteries are open with both permanent and temporary exhibitions; after the tour we recommend visiting the monastery café and tasting some plum delicacies or cr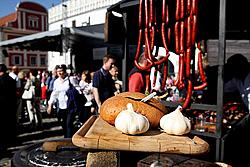 afting an object in the artisanal lane under the supervision of experienced and skilful craftsmen.
St. Wenceslas Celebrations will also include: St. Wenceslas open door night of museums and galleries with free entry into selected museums, a traditional St. Wenceslas photo session at the Museum Photo Studio Seidel, a possibility to try blacksmith´s craft in the Castle forge or concerts by bands Cimballica, Folimanka Blues and Musica Bohemica. The floating puppet theatre "Nálodní divadlo" will perform on the Vltava River. Wine lovers will find paradise on the terrace of the U Malého Vítka Hotel with grapevine processing demonstrations and tastings of wine juice, fermented wine juice and of Moravian wines.
During the National Holiday on 28 September there will be special tours to St. Vitus cathedral and St. Wenceslas Chapel as well as St. Wenceslas Holy Mass. You can also meet prehistoric hunters in the cave of Dobrkovice all day long.
This year´s Celebrations bring a number of interesting experiences so come and join us to celebrate St. Wenceslas in Český Krumlov!
For detailed schedule of events see www.ckrumlov.cz/wenceslascelebrations
ENTRY is free of charge for the entire duration of the Celebrations (exceptions stated)