Český Krumlov will once again don the medieval coat and honour the famous House of the Five-petalled Rose. Get transferred back into the medieval ages with noble knights, singers and jugglers accompanied by period music.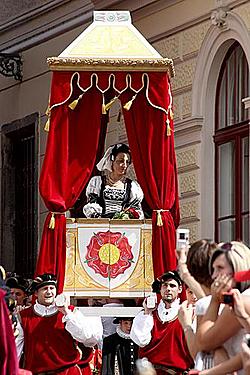 The Five-petalled Rose Celebrations is an amazing Renaissance festival in its 27th year offering a historic insight and entertainment for both kids and grown ups. Visitors can again view the popular costumed processions; attend the knightly tournament, live chess and concerts. Another popular feature is the medieval market with a unique atmosphere of dancing, musical and theatrical performances.
On Friday the "U Petrova Voka" tavern will open again on Svornosti Square where the steward and his company will present an attractive programme. An impressive firelight procession will light up the dark streets and corners of the town on Friday evening.
On Saturday 22 June the Celebrations continue from 10 am on Svornosti Square, 1st Castle courtyard, in the Brewery Gardens, in Široká and Hradební Streets and in other parts of the town. The historical costumed procession at 3 pm headed by the Rosenbergs will see approximately seven hundred noblemen, burghers, musicians, jugglers, knights on horses, craftsmen and other figures from the history of Český Krumlov pass through the town. The procession's destination will be the Brewery Gardens, the site of a knightly tournament. The clash of knights on horses is a reference to an ancient legend of the "division of the Roses" and lets the viewers admire the swordsmanship of the knights. The programme continues with a new performance the unique chess play with live figurines on a 12 x 12 meters chess board, a combined performance Fire and Music and culminates with festive midnight fireworks, illuminating the night sky.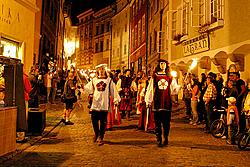 The Celebrtions will feature for example the LeGrando Circus, or the Wedding Feast on the Rosenberg Court; the artistic company "Komedianti" will again settle in Hradební Street. The Night of Music will return to streets and pubs following last year's success.
You can admire the skills of weavers, woodcutters, potters, pastry makers and other craftsmen during the entire duration of the celebrations on the historical marketplace located on the 1st Castle courtyard. Your reminder of the Celebrations can be in the form of an original jewel, a painted pot or a carved wooded whistle.
The 27th Český Krumlov Celebrations look forward to your visit.
For more information: www.ckrumlov.cz/celebrations2013 and www.slavnostipetilisteruze.eu