The repertoire of this unique theatre with the highest ceiling in the world includes altogether eight titles from June to September - four titles taken from the drama ensemble, two operas, one ballet production and one title from the puppet theatre. In this way the audience are offered a wide choice.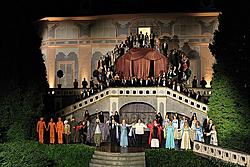 The season will open on 9th June with William Shakespeare's comedy AS YOU LIKE IT, by the prominent theatre director David Radok. On 28th June it will be followed by the opera of operas, DON GIOVANNI, prepared by the Oscar director Jiří Menzel. Jiří Menzel also directs the ageless Italian comedy SERVANT OF TWO MASTERS, which has been staged at the Open-Air Theatre fifty times, and for this season it will be inaugurated on 5th June. The series of blood-stained dramas to be performed in front of the revolving auditorium will be opened by Shakespeare's tragedy MACBETH on 13th July, directed by Martin Glaser, the head of the dramatic ensemble of the South Bohemian Theatre, and is followed by what can be called the high point of this summer's operatic production - the veristic drama PAGLIACCI by Ruggiero Leoncavallo. The main role of Canio will be sung by the world-renowned tenor, JOSÉ CURA. The singer will appear in five performances starting on 5th August. Subsequently, from 12th August the ballet of the South Bohemian Theatre will stage the popular dance burlesque A MIDSUMMER NIGHT'S DREAM with the choreography of Attila Egerházi and the lovely music of F. Mendelssohn-Bartholdy. On 24th August the popular Czech actor Oldřich Vízner will return in front of the revolving auditorium to play the main characters in the hilarious comedy ŽENY JINDŘICHA VIII. ANEB CHUDÁK KRÁL(EM) - THE WIVES OF HENRY VIII. OR A POOR (MAN TO BECOME THE) KING, written by Martin Glaser and Olga Šubrtová as co-authors. The puppet ensemble is returning to the Open-Air Theatre with the Revolving Auditorium with its crazy family comedy A JOURNEY AROUND THE WORLD, both at the beginning of summer and as the last September performance, which will symbolically close this summer's season at the Open-Air Theatre .
The operas of Don Giovanni and Pagliacci were realised in coproduction with the Český Krumlov International Music Festival, and their performances will be adorned, not only by José Cura but also by a large number of leading Czech and foreign singers, such as the American Eric Jordan from the Metropolitan Opera New York, the Brazilian tenor Fernando Portari, the Chinese tenor WeiLong Tao, already familiar to South Bohemian audiences, or the Argentinean conductor of Italian descent Mario de Rose, who will be in charge of the star-studded production of Pagliacci.
Tickets may be reserved on www.ckrumlov.cz/otacivehlediste or in Tourist Information Centre.