Krumlov Watermen Marathon is the largest sporting event in town measured by the participant numbers and now it enters a new decade. The eleventh year of this contest takes place on 11-12 October.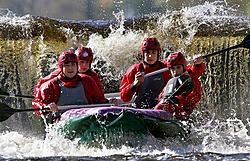 Do závodu se hlásí účastníci z ČR, ale také z Afriky, Ameriky, Anglie, Irska, Litvy, Lotyšska atd. Opět lze předpokládat účast špičkových závodníků. Závod podruhé proběhne jako součást desetidílné celosvětové série "ICF WORLD SERIES 2013".
Contest participants are not only from the Czech Republic but also from Africa, America, England, Ireland, Lithuania, Latvia etc. Some top sportsmen will attend again. This contest is one part of a 10-part global "ICF WORLD SERIES 2013" for the second time.
After last year's successful premiere we will again see attendees compete in the traditional marathon but also in an eliminating canoe sprint. This part of the contest will take place directly beneath the Krumlov Castle and is attractive for the viewers as it will bring direct fierce clashes between the best competitors.
Visitors may not only watch the competition but also actively join in the accompanying programme. The Brewery garden opens its doors to the smallest visitors in particular with various contests, games and theatrical performances starting at 12 pm. For the adults there will be refreshments and sales points with traditional and not-so-traditional sports equipment.
Come to support the contestants and enjoy a relaxing Saturday afternoon!