Advent and Christmas in Český Krumlov
Would you like to enjoy the run-up to Christmas in peace and experience the pleasant Advent atmosphere? Come to Český Krumlov! Each Advent weekend and the Christmas holidays will bring some interesting programme.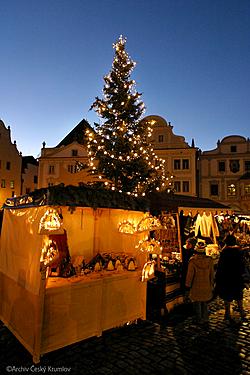 The Old Bohemian Christmas Fair has already become a popular favorite, scenting the town with Punch and Christmas cookies starting from 25 November. The Advent town magic will be further enhanced by the traditional meeting of local citizens as well as inhabitants of the neighboring villages during the joint lighting of the Christmas tree, carol singing, St. Nicholas presents distribution, post office of Baby Jesus or the Bear Christmas. A live Bethlehem poetically concludes the pre-Christmas period with a Biblical story performed in song and dance accompanied by live music.
The Advent commences on Sunday 27 November with a blessing by the Vicar of Český Krumlov Václav Pícha who will also light up the Christmas tree along with the town dignitaries and so they will let the Advent enter Český Krumlov. The Second Advent Sunday will be marked by the arrival of St. Nicholas, again in a new way. This time you will learn about the history of devils and angels of Český Krumlov and beyond. Baby Jesus will open his post office on Sunday 11 December and collect letters and Christmas wishes from children and adults alike. The White Lady will make a premiere appearance this year. The fourth Advent Sunday will be dedicated to the joint singing of Silent Night. The organizers have also the little ones in mind and so the Municipal Theatre will stage a different fairy tale on each Advent Sunday. The Advent and Christmas programme will be concluded on Friday 6 January by the arrival of the Three Kings and the Three Kings collection of the Czech Catholic Charity.
The Advent Programme will be further complemented by: Christmas concerts, a performance by the Elementary School of Arts, an event in the Home of Children and Youth, Advent photo taking in the Museum Photo Studio Seidel, exhibitions in the Regional Museum or a special Christmas viewing.
For more information: www.ckrumlov.cz/advent2011