From 29 June to 8 July 2018, Český Krumlov will host the 32nd edition of the Festival of Chamber Music. As in the previous years, it aims to present music closely related to the Český Krumlov region, while at the same time bringing to bear the town's unique milieu and connecting it with well-known and less frequently played compositions as performed by top-notch musicians.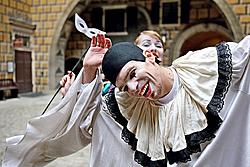 In line with the tradition, the festival will open with the Baroque Night in Český Krumlov Castle, affording the visitors the chance to peep into the world of magnificent Baroque festivities. Concurrently, the audience will have the rare opportunity to see a production at the well-preserved castle theatre, using the original stage machinery. This year, the Capella Regia ensemble, headed by Robert Hugo, will present Wenzel Müller'scomic opera Das Neusonntagskind, which the Schwarzenberg family and their guests performed for entertainment during their summer stay in Bohemia in 1795.
Copied or composed for the Schwarzenberg court were the oboe trios, which within the Nocturne concert will be delivered by the UK's Lonarc Oboe Trio. Within a matinée at the second castle court, the Schwarzenberg Guard Jazzband will present a repertoire selected from the music archives of the ensemble who under this name performed in Český Krumlov between the two world wars.
One of the festival's major events will be an evening concert made up of secular Baroque cantatas and sonatas to be given by the Italian countertenor Filippo Mineccia and the ensemble Il gioco de' Matti. Another two concerts will feature chamber ensembles formed by young and middle-aged musicians. The Belfiato Quintet will perform selected Czech and French pieces for wind quintet, while the Graffe Quartet will play works by Josef Suk, Antonín Dvořák and Leoš Janáček.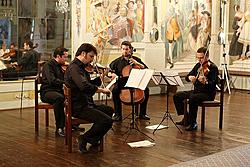 Straddling different music genres will be this year's Concert for Egon Schiele, to be given by the renowned Clarinet Factory quartet. The Jazz above the Vltava evening, to take place on the Hotel Růže terrace, will belong to Luboš Andršt, one of the most exciting Czech jazz guitarists. The highly popular organ concert will this year feature the organist Drahomíra Matznerová and the flautist Žofie Vokálková. The festival will conclude with a concert of the Český Krumlov String Orchestra and the pianist Veronika Böhmová.