Dienstleistungen
>
Sehenswürdigkeiten
>
Český Krumlov
>
Kultur, Veranstaltungen
>
Highlights
International Český Krumlov River Marathon 2019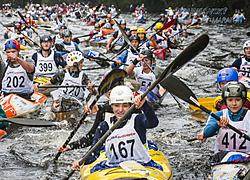 Staré Dobrkovice 74/32
38101 Český Krumlov
Kontakt: Mgr. Hana Šmachová
Telefon: +420 721 834 092

E-mail: krumlov@seznam.cz
WWW: www.krumlovskymaraton.com

Lage: Český Krumlov
Type: Highlights
he wide variety of activities associated with Český Krumlov also features major sports competitions, one of which certainly is the river marathon, with the largest number of contestants in the Czech Republic. Every year, the river marathon attracts hundreds of keen watermen, ranging from strict amateurs to top-class international athletes. The river marathon weekend offers an abundant accompanying programme for the general public and does not forget our youngest visitors, too.

Dates:
12.10.2019
| | |
| --- | --- |
| Termin | Von - Bis |
| 12.10.2019   (Sam) | 11:00 |
► Place:
River Vltava, Vyssi Brod, Rozmberk nad Vltavou, Cesky Krumlov

► Start:
mass start at 11 a.m.

● I. Vyšší Brod (from the campsite under the dam "Pod Hrází" – 36 km) KAYAKS AND CANOES see map

- approx 11:00 – start of the 1st line: K2 M, K2 MIX, K2 W
- approx 11:05 – start of the 2nd line: K1 M, K1 MJUN, K1 MVET, K1 SEA, K1 W, K1 WJUN
- approx 11:05 – start of the 3rd line: C1 M, C1 MJUN, C2 M, C2 MVET, C2 TOUR, C2 MIX, C3 and C4

● II. Rožmberk nad Vltavou (26 km) SUP, PUNT, C5 – C9 and RAFT see map

- approx 11:10 – start of the 1st line from the water: P5 M, P5 W and C5 – C9
- approx 11:15 – start of the 2nd line from the river bank: SUP M, SUP W, SUP MVET, SUP MEGA, SUP MJUN
- approx 11:15 – start of the 3rd line from the river bank: R4 / R6, RAFT TOUR

Paddlers of R4, R6 and SUP are running and carrying boats and paddles to the river.

► Finish:
Cesky Krumlov at the brewery garden
| | |
| --- | --- |
| Termin | Von - Bis |
| 12.10.2019   (Sam) | 13:00 |
► Start:
At campsite "Na Piskarne"
GPS: N48°45'7.16″ E14°19'13.8″
A mass start after passing (actually overrun) of first boats of International Cesky Krumlov River Marathon
at 1 p.m.

► Finish:
Český Krumlov, below brewery Eggenberg (at the same place as KVM)

► Course info:
Vltava River, 6 weirs (taking the boat around weirs is allowed), 11 km
About Marathon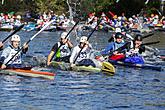 The first annual Krumlov Watermen Marathon took place already back in 2003. The organizers were inspired by a watermen marathon taking place in the French canyon of Ardéche, transforming this event to Southern Bohemia to the Vltava River. Every year, hundreds of enthusiastic watermen as well as top sportsmen gather to attend the Marathon. The Krumlov Marathon is the largest in the Czech Republic by the attendees' count and by the number of competition categories.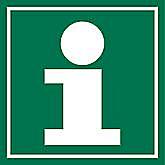 Aufenthaltsprogramme - Unterkunftsservice - Stadtführungen - Eintrittskarten

Infocentrum Český Krumlov
náměstí Svornosti 2
381 01 Český Krumlov
Tel.: +420 380 704 622
E-Mail: info@ckrumlov.info
www.ckrumlov.info/info

Lage auf der Karte | Google Street View
GPS: 48°48'38.91" 14°18'55.44"